Teachers participating in Impact Florida's Solving with Students Cadre made substantial gains in student experience this spring through a unique professional learning opportunity for secondary math teachers, new research shows.
The cadre piloted an innovative approach to professional learning based on student feedback about their classroom experiences. The cadre included 49 teachers from across the state, and was specifically designed to improve student experience in math, a critical pathway for college and career success, building on the work of Impact Florida's Covid Recovery Cadre.
Through the learning experience, the teachers used a free survey tool, Elevate by PERTS, to ask students for feedback and then try new strategies to engage students. Impact Florida provided wraparound support to help the teachers succeed, including one-on-one check-ins with Impact Florida staff, a monetary stipend for participating, community calls to share strategies and results, and the option to meet virtually with a coach from the New Teacher Center. 
The Cadre's activities were one way to improve the Professional Learning provided to teachers, one of Impact Florida's Five Conditions that Support Great Teaching. It also highlighted ways that teachers can use data for improvement, another one of the Five Conditions.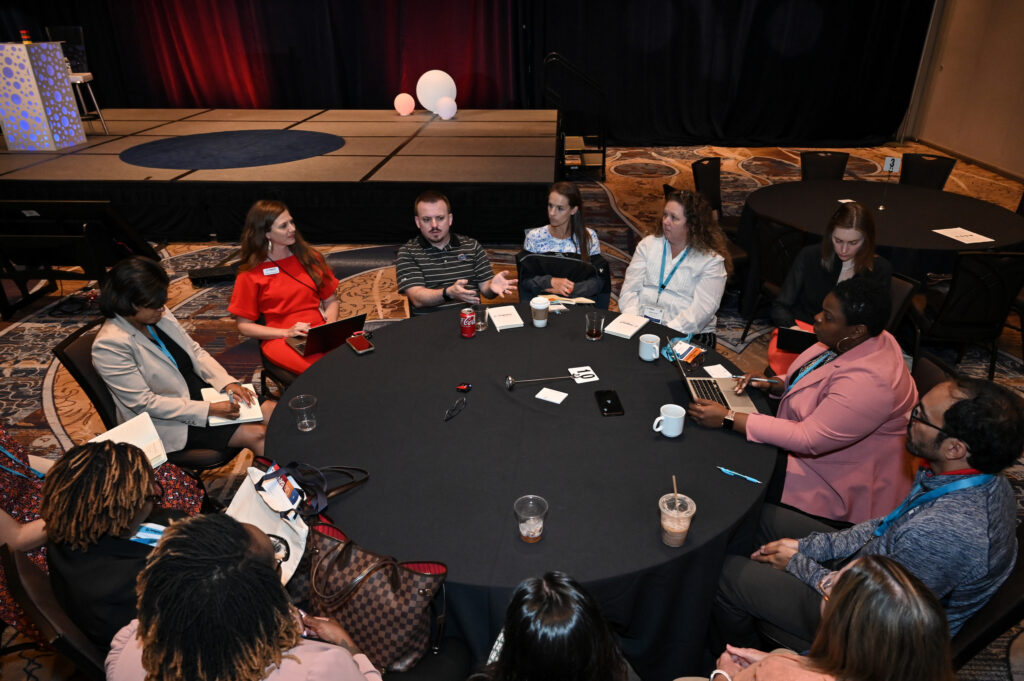 On average, teachers saw a 9-percentage point increase in students reporting positive experiences in aspects of the classroom they were working to improve. Other highlights of the evaluation by the New Teacher Center include:
98 percent of teachers said they made permanent and substantive changes to practice.

91 percent reported that the work took two hours or less per week. 

98 percent of the teachers who are returning to the classroom next year said they would be interested in participating again.
The teachers explained in their own words how they felt about the Cadre and the use of student feedback for professional learning.
"Most of the time, as an educator, we don't take the time to reflect. This experience gave me time to reflect and see just how my students felt about my classroom. I was able to look at student survey data at the classroom level to identify what I could improve upon and then grow." – Kellyann Campbell, Okeechobee County

"While participating in the Solving with Students Cadre, I realized that my students should have just as much say as to what happens in the classroom. This is their learning environment too." – Mindy Stockton, Hendry County

"I gained a fantastic network of teachers that I can reach out to for support and different teaching techniques. I have also been able to better address and evaluate my students' needs on a different level which may ultimately help to impact their overall academic success." – Lindsey Buckner, Collier County
Teachers were selected to join the cadre through an open application process with more than 180 teachers applying for about 50 slots. The Cadre includes teachers from the following districts: Bay, Brevard, Broward, Clay, Collier, Flagler, Hendry, Hillsborough, Manatee, Marion, Miami-Dade, Nassau, Okeechobee, Pasco, Pinellas, and Putnam.
"The teachers in this cadre have shown remarkable vulnerability and leadership, and now we can see that their work has yielded great results for students," said Mandy Clark, President of Impact Florida. "So many teachers have told us that this experience changed their classrooms and their careers for good. We believe this type of teacher-led, data-driven learning opportunity is well worth expanding to more teachers and schools."
The cornerstone of Impact Florida's work, Learning Cadres bring education leaders together from across the state to pilot innovative practices and learn from each other. The Solving with Students Cadre was Impact Florida's first teachers-only cadre, and it showed the Learning Cadre model can apply directly to teachers, students, and classrooms, as well as district academic leaders. 
Following each of its Learning Cadres, Impact Florida packages and shares our learnings with leaders and partners from around the state to positively impact as many students as possible. Learn more about the cadre at impactfl.org/solving-with-students-cadre.
The list of participating teachers is listed by district below. Congratulations on your work in the cadre!
Bay – Vanessa Cupak, Pamela Harris
Brevard – Tia Geivet-Colon, Julie McKenzie
Broward – Katrice Dixon, Tawanna Rowe
Clay – Michael Young, Rebecca Cooksey, Brad Smith
Collier  – Michelle Benton, Lindsey Buckner, Kathryn Donohue, Beata Vrehas, Kayla Fulghum, Cecilia Vega 
Flagler – Lori Antos, Sherri Fields
Hendry – Mindy Stockton
Hillsborough – Jeff Spotts, Justin Kingsley, Katie Wood, Leesa Crescenzi, Leisha Collins, Jessica Hebert, Angelique Linton, Renee Labunski, Kalynn Viramontes 
Levy  – Amanda Boggs
Manatee – Marcy Kleer
Marion – Janessa Lovell, Lori Root, Jean Beagan, Kimberly Boots
Miami-Dade – Martha Hernandez, Ada Veliz, Sharmaine Alexander
Nassau – Candice Mobley, Anna Stewart
Okeechobee – Kellyann Campbell, Wendy Luaces-Moreno, Josey Pearce
Pasco – Stacy Schroer, Jennifer Watkinson, Kerry Saddler
Pinellas – Anthony Velardocchia
Putnam – Damon Frazee, Ian Boze, Angelina Wilson, Michele Knowles