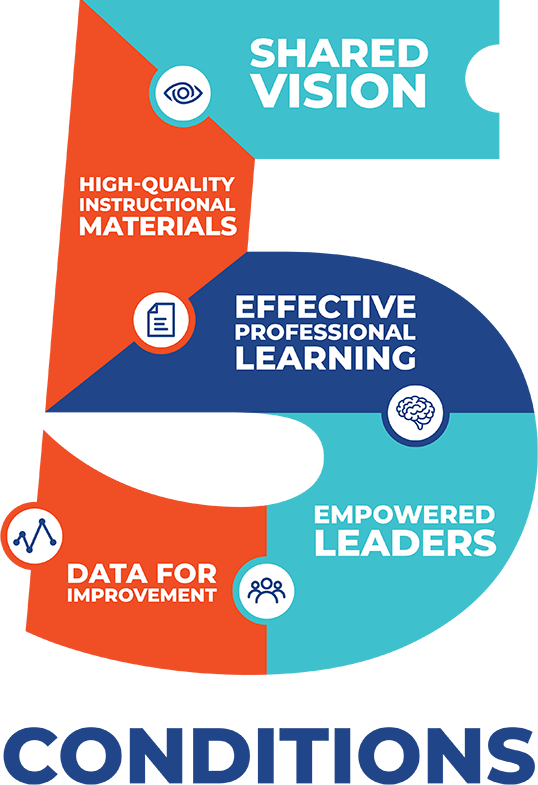 In partnership with FADSS, the inaugural Districts for Impact Cadre was focused on The Five Conditions that Support Great Teaching. Between October 2019 and February 2020, a group of education leaders from each of the cadre districts participated in "Learning Walks" in all five districts to observe firsthand the high-impact practices that are bridging the opportunity gap and improving outcomes for all students. In addition to participating in walks in other districts, each cadre member hosted a learning walk in their district to highlight a promising practice that is positively impacting student learning.
The districts participating in the first Districts for Impact Learning Cadre include:
Impact Florida captured lessons learned from the Learning Walks and is committed to sharing those learnings with school districts across the State of Florida. Materials from the visits, videos, classroom artifacts and a summary of the learnings have been compiled into a series of Cases for Impact, posted below. Participating districts will also share their learnings from the experience at FADSS and other statewide association meetings.
This Case for Impact Profile deconstructs how Pasco County School's (PCS) focus on the implementation of a shared vision of what great teaching looks like — so that every student can succeed — led to further investments in instructional materials, stronger professional learning strategies, and improvements in student outcomes.
HIGH-QUALITY INSTRUCTIONAL MATERIALS
This Case for Impact Profile deconstructs how the School District of Palm Beach County (SDPBC) increases access to high-quality, academically rigorous, and culturally relevant instructional materials.
This Case for Impact Profile deconstructs how the School District of Osceola County (SDOC) empowers school leaders to scale great teaching beyond individual classrooms through a data-rich continuous improvement process to monitor strategic implementation.
This Case for Impact Profile deconstructs how Collier County Public Schools (CCPS) leverages data for continuous improvement through its Data Dialogue process.
EFFECTIVE PROFESSIONAL LEARNING
This Case for Impact Profile deconstructs how the Miami-Dade County Public Schools (M-DCPS) leverage effective professional learning systems and structures that empower school and district leaders to improve student engagement and instructional practices