Five Conditions
That Support Great Teaching
Great teaching takes more than just a great teacher. While having a strong teacher is critically important, there are other factors involved in delivering a world-class learning experience for every student, including social-emotional and whole child supports. But we believe that a sustained focus on excellent instruction is preeminent, and when coupled with these other types of targeted supports, will lead to more of our students experiencing success.
Impact Florida curates and cultivates the following list of resources with only the best and most useful materials that align with the Five Conditions That Support Great Teaching. We recognize there are many factors that influence a student's ultimate success, however, these are conditions that leaders and educators can control in their classrooms to improve student engagement and learning. These are: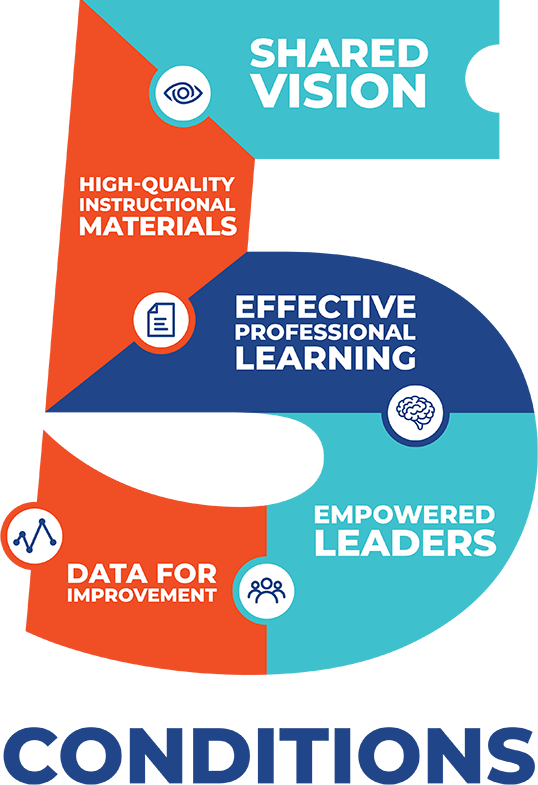 SHARED VISION: A shared vision of what great teaching looks like — so that every student can succeed
INSTRUCTIONAL MATERIALS: High-quality, academically rigorous instructional materials
PROFESSIONAL LEARNING: Effective professional learning systems and structures
EMPOWERED LEADERS: School leaders who focus on scaling great teaching beyond individual classrooms
EFFECTIVE USE OF DATA: Regular use of data and a focus on continuous improvement
The list is routinely updated with new material, so we encourage you to check back often or sign up to receive updates.
All
1: Shared Vision
2: Instructional Materials
3: Professional Learning
4: Empowered Leaders
5: Effective Use of Data
Equity in Education
The New Leaders' Transformational Leadership Framework identifies key actions for improving student achievement and effective leadership practices at three levels – system, school, and team. The tool breaks these actions into five categories: Learning and Teaching, School Culture, Talent Management, Planning and Operations, and Personal Leadership. In addition, New Leaders highlights areas where leaders have …