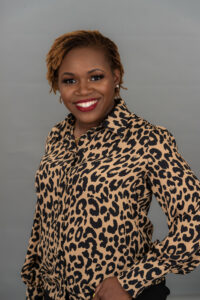 Katrice Dixon, a 6th grade math teacher at Crystal Lake Middle School, first heard about the Solving with Students Cadre from her "teacher bestie," Tawanna Rowe.
The cadre seemed like an ideal enhancement for their classroom teaching styles, so they both immediately applied. 
"I really liked the idea of the cadre from the beginning and the name 'Impact Florida' because it implies 'making a difference.' It was a chance to expand on what we were already doing," said Katrice, who has been teaching for four years. 
Participating in the cadre has been a worthwhile experience for the two, bringing surprising results and realizations that have improved their student's experiences in the classroom – and their overall engagement with math. 
About the Solving with Students Cadre
The innovative Solving with Students pilot program is based on a free, research-based tool called Elevate by PERTS. Teachers surveyed their students four times throughout the spring semester and then learned about classroom strategies for improvement within six evidence-based learning conditions: affirming identities, classroom community, feedback for growth, meaningful work, student voice, and teacher caring. 
Across the state, 49  teachers completed the cadre, which was designed to bring directly to classrooms  the Five Conditions that Support Great Teaching, especially effective professional learning, empowered leaders, and data for improvement.
Relationships With Students Are Key 
As friends and co-workers in a large, urban school, Tawanna and Katrice bonded when they first met because they both are second career teachers and have student-focused teaching styles. They are pretty much a package deal now at their school. For Katrice's sixth-grade students, getting into Mrs. Rowe's seventh-grade math class the next year is often a choice goal, since they know they will encounter a similar, like-minded teacher. Both teacher's survey results were strong overall from the beginning, which indicated that they were already in a good place in their classrooms. However, they found some interesting surprises hidden in the student feedback. 
"My most surprising feedback was that while I felt like I was in sync with my girls, the boy's data showed that I was checking in with the boys more – maybe because I am a boy mom, and I just do that more naturally," said Katrice. "And when I started purposely engaging with the girls, they became more open with me and began sharing more of their struggles and experiences."
Katrice's students also shared feedback that they needed more opportunities to just be kids and build relationships. The pandemic and isolation of the last few years had taken its toll on them. She began to focus on the areas of Classroom Community and Student Voice and implemented a circle check-in for the students to share and talk in a group. She also paid attention to these interactions and began incorporating elements from the conversations into her math problems, making them more relatable – which delighted the students and made them feel heard. 
For Tawanna, also in her fourth year of teaching and math department chair, it was eye opening to realize that the students had the least interest in the areas that she felt were most important, such as those having to do with curriculum. The survey results showed that they were more interested in having their opinions heard and engaging with her more. 
"We know that these changes made a difference because our students are actually saying they want to do math over the summer," she laughed. "The surveys have been great at giving us a direction of where the students need us to go and how to get there. And ultimately, I have noticed a positive difference in my students' academic performance – which is so rewarding."
In addition to the relationships they've formed with students, Tawanna and Katrice are quick to point out that one of the keys to their success has been the mutual support they've provided for each other during the cadre, with lots of reassurance and temperature checks.  
"We have been so lucky to have each other throughout this process, and that has been super beneficial," said Tawanna. "The whole experience has made me feel energized, and I love the fact that both of us can be a 'somebody' for this population of students who need to see a larger world than just what they know."  
Excited About the Future
Katrice is excited about the future and plans to utilize similar strategies right at the beginning of next year, hopeful that setting positive expectations right away will make even more of a difference. She plans to introduce some of the ideas to fellow teachers who seem receptive and to their district through their roles on the mathematics board in Broward County.  
"The surveys and strategies have been essential for us," said Katrice. "Rather than being an add-on and creating more work, it has actually made it easier for us as teachers. It's all about making this the best educational experience for students. And we hope that by working together, we can have a bigger voice in inspiring others to implement some of what we've learned in a larger way."