Throughout May and June you've been hearing from Florida teachers in a series of Insight posts with recommendations for summer learning focused on their area of expertise. With today's Insight post, we wrap up this series but will continue to highlight and support Florida's teachers. Stay tuned for a new series launching soon!   
---
Creativity: Weaving Learning into Projects at Home
by Christie Bassett
Children's brains need creative outlets. Kids of all ages need an avenue to explore their ideas, they need a direction to channel their energy towards and, most importantly, a safe space where failures are learning opportunities and successes are the result of diligent effort. 
As an artist and an educator, I am always excited to tie artistic opportunities into cultural studies, literature, mathematics, and science. When I taught visual art at Highlands Grove Elementary School in Polk County, I designed my lessons with cross-curricular objectives, creating a foundation for my students to begin the artistic process while activating their background knowledge on the subject. What's the best part about this method?
You don't need to be a career artist or an educator to do this in your home!
My children, Ellie (9) and Crawford (7), were devastated when they found out their school was closing in March due to COVID-19. They immediately cried, "We're not going to get to finish our Native American project!" They thought they would not get to learn more about Native American culture and participate in projects inspired by Native American arts. While they had many core academic assignments to complete in our new "school at home," I wanted to make sure they also had opportunities to create and explore their interests, so I decided to use one of my favorite books, Annie and the Old One, to give them that opportunity.  
Click here to view Annie and the Old One by Miska Miles: Children's Books Read Aloud on the Once Upon A Story YouTube channel.
Annie and the Old One, by Miska Miles, is a vivid story about a Navajo girl learning to weave from her grandmother. The book describes in detail the traditions and artisanship of Navajo culture and provides a touching story about generational family connection. While we were reading together, I frequently paused to ask them questions about Annie's story like: 
How does Annie change throughout the story?

What family traditions or special activities do you value and plan to pass on to others?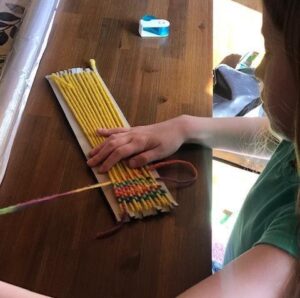 I also paused when we came to new vocabulary words like hogan and loom. I either explained their meanings or together we searched the Internet for images and descriptions to cement the new words into their understanding.  Once we finished the book, Ellie and Crawford worked on cardboard loom to create their own weaving artwork. We also listened to Native American instrumental music while working. They loved it!
Using literature as a springboard for projects is a great way to give your children a creative outlet, build background knowledge, and encourage in-depth commitment to projects. 
Check out this short video to learn how my children created their weaving artwork. 
---
You can look for deeper learning opportunities in all kinds of children's literature. Here are some ideas: 
Construct

miniature houses using

found objects

after reading

The Three Little Pigs

. Want to add an engineering experiment? Use a blow-dryer on escalating settings to see how the found object houses stand up to air flow! 

Turn on the tunes and

draw to the sound of music

with

Jazz

by Walter Dean Myers or

Bello the Cello

by Dennis Matthew.




Read

Where the Wild Things Are

by Maurice Sendak or

Glad Monster, Sad Monster

by

Ed Emberley. Discuss with your children how we can use our imaginations to

explore our feelings

. Draw wild beasts inspired by different

emotions

with your child.

Use

patterns

or

paint

to create artsy owls when you read

Little Owl's Night

or

Little Owl's Colors

, both by Divya Srinivasan

You can do endless

origami

activities after you read

The Paper Crane

by Molly Bang,

Sadako and the Thousand Paper Cranes

by Eleanor Coerr, or

The Origami Master

by Nathaniel Lachenmeyer.
---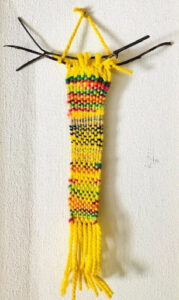 The most important part of any activity with your child is enjoying the process of creation. The motor skills practice, processes of design, and quality time spent with you are much more important than the aesthetic of their finished artwork or craft. Taking the time to read and create with your child will make memories as beautiful as their art!
If you would like to learn more about my family's educational experiences at home and abroad, check out my blog, TheDutytoDevelop.com.
Christie Bassett is a performing arts teacher at Spangdahlem Air Base in Germany, where her husband is stationed with the United States Air Force. Christie was recognized as the 2015 Florida Teacher of the Year and has 9 years of teaching experience in visual arts, 2 years in 2nd grade English languages arts, and served for 3 years as teacher leader.