Happy Teacher Appreciation Week! 
At Impact Florida we believe a great way to honor Florida teachers is to share their voices. We are excited for you to hear from Kayla Fulghum, Collier County Public School (CCPS) teacher, in this week's Insight post. Kayla was one of twelve Pre-Algebra/Algebra 1 teachers from CCPS that volunteered to take part in a virtual coaching intervention as part of the COVID Recovery Cadre. During a year of uncertainty, it is understandable that teachers may be reluctant to take on such a robust coaching experience, but Kayla will share how essential professional learning, one of Impact Florida's Five Conditions that Support Great Teaching, is to strengthening and supporting teachers. 
---
Virtual Coaching: How Taking Risks Helped My Students Succeed
By Kayla Fulghum, Gulf Coast High School
Even with 16 years of experience, teaching during a pandemic has been the greatest challenge I have faced as a teacher. The effects COVID has had on our schools and classrooms has increased the necessity for stronger supports for students and teachers. So when we returned to school last August, I was hoping for solutions to help my students be more successful in Algebra 1A/1B. I was very hesitant to volunteer when I heard of a new virtual coaching program for 9th-grade Algebra teachers through CCPS's work in Impact Florida's COVID Recovery Cadre. I was already facing the challenges of navigating the blended teaching model and learning new online platforms for the year. I wasn't sure I had the time to dedicate to my teaching and learning when there was so much my students needed but decided to give it a try! I had no idea that taking a little extra time to focus on my learning would end up being part of the solution I had starting the year looking for.  
How It Works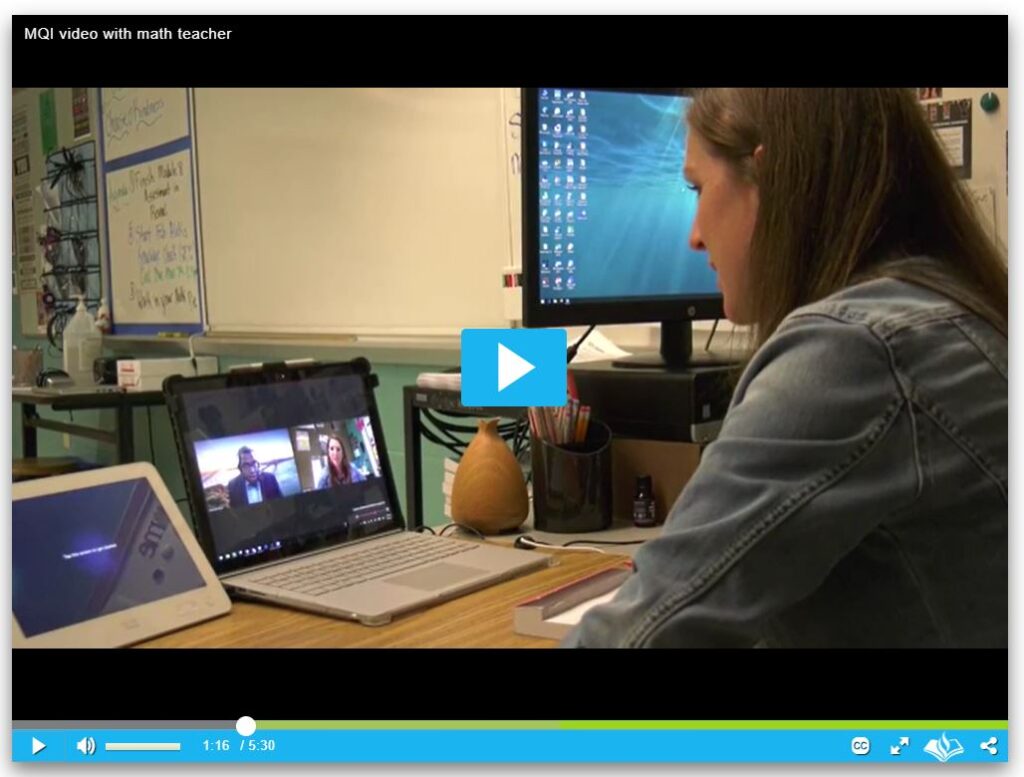 I was connected virtually with my coach from MQI Coaching to learn about the program and how we would complete six coaching cycles using MQI's coaching rubric and a suite of technology. This included an "eye in the sky" style camera that could follow me around the classroom, a huge TV screen located in the rear of the room to display online students (CCPS had a blended teaching model), and a microphone system to pick up teacher and student voices. While becoming acclimated to the new technology was tricky at first, with a bit of practice it became second nature and the online students immediately loved the professional quality of the classroom camera system. Instead of feeling separated from the students in the classroom, the online learners now felt like they were with their classmates. Talk about bringing back some of our once lost classroom community that I was missing so much from when all kids were in one place!
Setting Focus Areas
During my coaching sessions, my coach and I would look at the impact the pandemic has had on our 9th-grade algebra students and find ways to fill the gaps, help students adapt to the new blended learning model, and help me grow as an educator. We also immediately set goals for the areas I wanted to improve. I decided to focus on three areas:
Improving student communication with their mathematics language

Increasing student involvement in the classroom and at home (virtual students)

Refining my questioning strategies for more in-depth student response.
I videotaped my lessons every few weeks and focused on improving these areas. My MQI coach and I would meet and go over my classroom recordings and also watch videos from teachers in other MQI districts. Each conversation was rooted in the MQI rubrics and my goals. I was amazed at how quickly I could see the improvements in my students' math explanations, which I believe was because my questioning strategies were improving too, even within the first few cycles. 
Watching a tape of yourself teaching is very empowering. You see all the things that you did exactly how you wanted to, but you also see all the areas where you want to improve. I found myself constantly saying, "I can do that better," or "Next time, I am going to say this…," or "Had I just waited a little longer maybe they would have come to that conclusion on their own." The process of constantly self-evaluating and working with a coach for rubric-based input and encouragement really accelerated my growth as a teacher.   
Stepping Out of My Comfort Zone
COVID has brought us many challenges this past year but in turn, we have learned useful and new ideas on improving how we teach during these less than optimal times. While I may have been hesitant to try the coaching, and reflecting on my videos was sometimes uncomfortable, I realized getting out of my comfort zone helped me to learn. Re-evaluating my teaching to fit my students' needs helped my students be more successful in Algebra 1A/1B, and helped me grow alongside them. If we aren't learning and taking risks, we simply won't grow. We'll stay right where we are. We would never want that for our students, and I'm glad for the supports to realize this as an educator!
Kayla Fulgham has taught sixteen years in Collier County Public Schools as a middle school and high school math educator and has a Master's degree in Education from Saginaw Valley State University in Michigan.
---
More on the COVID Recovery Cadre
The COVID Recovery Cadre was the first of our five cadres to include teachers as part of the district teams. The cadre teachers' expertise and knowledge provided valuable insight as districts planned and implemented a variety of interventions to support their most vulnerable students. Teachers have since also been included on district teams in our newest cadre, the Professional Learning Cadre. Having teachers with us as we develop new cadres and branches of work is an integral part of Impact Florida.