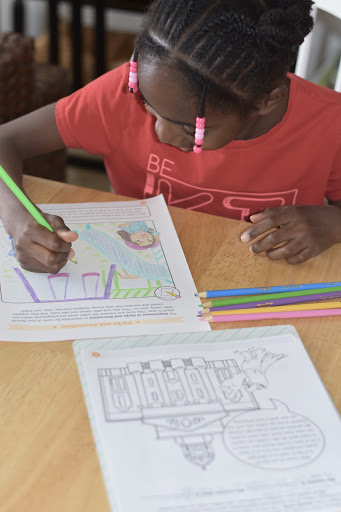 A child's natural curiosity about how society works can serve as a powerful springboard for civic learning. As a parent and social sciences educator, I believe it's our responsibility to help children develop an understanding of social issues along with the roles and responsibilities of being an active participant in our nation's democracy. Equipping my own daughter, Sophie, with the knowledge and skills she needs to be an engaged, altruistic citizen is one of the most empowering things I can do as a parent. By nurturing our children's civic habits and skills, we can ensure a healthy future for our country.
FOUR RECOMMENDATIONS FOR TEACHING AND LEARNING CIVICS:
Delve into civics with children's literature. The National Constitution Center has a fabulous reading list to help children begin building civic knowledge. Sophie's favorites from this list are Grace for President by Kelly DiPuccio and My Name Is Not Isabella by Jennifer Fosberry.
Engage in healthy civic discourse. Ensure a safe space for your child to ask questions and form opinions on important societal issues. Encourage them to research current local, national, and international issues, particularly ones that young people view as important to their lives. There are a variety of news sources that offer stories appropriate for a younger audience. Common Sense Media provides parents with a comprehensive list of best news sources for kids. Challenge your kids to think of solutions! Don't shy away from discussing controversial issues. If you take time to educate children on both sides of the issue, you'll empower them to approach sensitive topics with greater objectivity. It will also sharpen their critical thinking and conflict resolution skills.
Take your child with you to vote. Having conversation about the importance of voting should begin at a young age. Let your children be witness to the process. In doing so, you'll impress upon them the significance of citizens' voices in a democracy. Besides, what young child wouldn't be excited for the free sticker they receive after submitting the ballot?
Start with your community. Educating your child about the community in which you live is a great first step. You can start by researching its demographics and discussing its unique challenges and strengths or by attending a town or city council meeting. Participating in local events, meeting policymakers, or writing letters to elected officials are good options too! If you have younger children, iCivics offers a great activity packet on local government. It is currently one of Sophie's favorite projects! I also recommend their interactive games, which can be found in their Remote Learning Toolkit for Families. Given our present reality, it's a safe way to engage in learning at home.
Ultimately, it's up to us to show our children and students that a healthy democracy depends on everyone playing an active role in society. By exploring civics, we can do our part to create responsible, informed, and engaged citizens.
Molly Winters Diallo is a social-science teacher teacher and department head at Alonzo and Tracy Mourning Senior High School in Miami-Dade County Public Schools. Molly was recognized as a 2019 Florida Teacher of the Year Finalist, 2019 M-DCPS Teacher of the Year, and 2016 Bezos Education Scholar.