Happy Teacher Appreciation Week!
At Impact Florida we believe the best way to honor Florida teachers is to share their voices through a set of Insights posts with recommendations focused on their area of expertise. You'll hear from teachers across the state on topics such as astronomy, mathematics, English language arts, computer science, foreign language, and music. Each teacher will discuss what they love most about their content and provide fun resources that are family friendly and can be used at home during this time of remote learning.
---
Keep Looking Up
By Kyle Jeter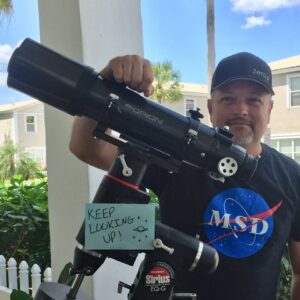 I began teaching astronomy in 1997 and have always believed the goal is to not only teach about the wonders of the Universe, but to allow students to learn new technologies, collaborate in a workplace-like environment, and express their own creativity in the process of doing so. Even with social distancing and distance learning, astronomy presents an opportunity for us to look up and tap into an interest that your kids may have and that your family may learn together. 
There is an abundance of online astronomy resources available for students (and their parents!) to explore. Here are a few of my favorite resources that I think your family will enjoy too!
I created this website for my students to share the materials from class as well as awesome articles, videos, and resources. I am amazed by students' talent and creativity and have also posted their short films, artwork, etc.  Perhaps this will inspire some ideas for fun astronomy projects that can be done at home.   
Here's a breakdown of the resources you will find on my site.  I hope it's a launchpad to your own exploration of our magnificent Universe!
Articles: I love the website Space.com

! You will find a section of great article links listed under each chapter. These range from sky-watching to how celestial events were tracked 5000 years ago.

Crash Courses: Highly educational and immensely entertaining, Phil Plait's Crash Course Series delivers bite-sized lessons that are perfect for those wanting a solid overview of astronomy. 
Videos:  In class, I use the series The Universe. At least one season is available on Netflix, as is another great series, Cosmos. 
Simulations/Activities: For older students, I would recommend Physics Classroom

for a deeper understanding of the Laws of Physics that govern our Universe.

Ted Talks: Definitely check out Ted Talks for a more in-depth look at topics such as How To Land On A Comet

and

Lessons From A Solar Storm Chaser.
Citizen Science: Ready to actually DO some astronomy? Check out Zooniverse

projects. Citizen scientists are actually helping astronomers make discoveries.
Want to learn the night sky? Check out these ESSENTIALS for astronomy buffs:
Stargazing Apps

for your phone. Download one of the many incredible apps that allow you to point at the night sky and reveal the constellations and celestial objects within your view. 

Stellarium, a planetarium for your computer. Download the FREE software Stellarium!  It shows a realistic sky for the place and time you select, just like what you see with the naked eye, binoculars or a telescope.
 I've created a short video on the basics to help you get started:
Finally, if you'd like to take a seat in my class, check out my YouTube channel for over 100 lectures and videos, each 15 minutes or less. I'm no Phil Plait or Neil DeGrasse Tyson, but I do my best!  Whether you're a novice or a future astronomer, remember to have fun, explore, and always keep looking up!
Kyle Jeter is an Astronomy teacher at Marjory Stoneman Douglas High School in Broward County, Florida and was recognized as the 2017 Broward Teacher of the Year.