Professional learning has long been a pain point in education, typically characterized by teachers spending hours in sit-and-get sessions with no guarantee of lasting improvement to their teaching practice. Not to mention the time-consuming elements of traveling to a district location or the frustration teachers can face of being restricted to specific course offerings due to the scheduled time. Professional learning is difficult to get right, but research has shown time and time again the important role it plays in the development of teachers. On average, teachers spend the equivalent of 19 school days per year in professional learning (TNTP, Mirage Report, 2015). That's roughly 10% of a school year. So this prompts me to ask, in what ways are districts capitalizing on the new technology that has been more thoroughly integrated into our daily systems since the beginning of COVID-19?
Impact Florida's Five Conditions That Support Great Teaching emphasize how crucial effective professional development is to teacher and student success, regardless of the classroom environment. With new asynchronous and synchronous distance learning plans and countless hybrid models to prepare for, professional learning has been turned upside down.
While virtual tools have changed the way districts plan and host professional learning, it has not yet changed its perceived efficacy with teachers.  One thing remains clear  – teachers continue to seek out opportunities to learn from one another, valuing peer-to-peer support more than any other type of professional learning.
The UF Lastinger Center's Virtual Listening Tour's most recent brief on best practices for preparing educators and families for distance learning reports nearly 36% of teachers surveyed find peer and collegial support were most impactful in supporting their transition to distance learning.  As shown in the figure below, online resources proved even more valued to teacher respondents than the professional development offered by their districts.  Clearly, we have room to improve as a state in how we deliver professional learning through our systems.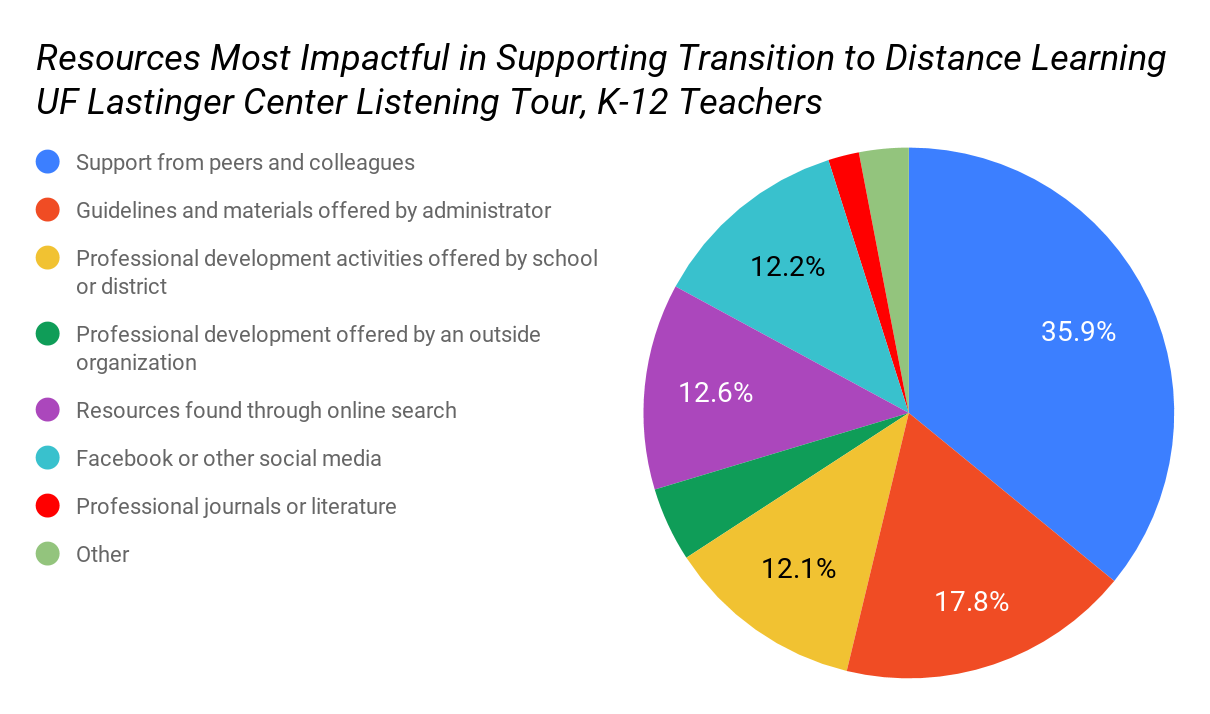 While many of the district professional learning trainings in the spring of 2020 originally focused on technology use, it is clear teachers value time with their colleagues to develop the best practices needed to use those new tools to teach content. Learning how to log in, share files, and post videos is not enough for teachers and students to have a successful school year, and districts know that. Collaboration and reflection have long been a constant in the daily practice of teachers and must remain a constant to support the growth of their teaching practice. 
"Our teachers engaged with their peers in the same grade level or content area once a week in an e-PLC," said Dr. Debra Pace, Superintendent of the School District of Osceola County. "Teachers thrived during the virtual collaboration and it helped to strengthen the PLC process. Our e-PLCs are something really positive that came out of the spring."  Dr. Pace also shared that the benefits of incorporating additional technology did not end with teachers. "Teachers used technology to engage their students in active collaboration and learning. We want to build on and capitalize on those strengths." 
A theme that emerged from the Virtual Listening Tour research is the need to leverage educator expertise and existing structures to create professional learning communities around distance learning. New ways of interacting are rising as promising practices that could work in districts large and small, and that have the potential to connect teachers across the state and country. 
In Polk County, the public Facebook group Polk Teacher-Parent Connect was created by community members in March and now has over 3,700 members. This group serves as an online collaboration space for teachers, school leaders, community members, and district staff to share and discuss current issues. Polk County Public Schools is also providing monthly New Teacher Seminars which highlight the expertise of experienced teachers and are open to all teachers through Zoom or Facebook Live. "We want to elevate the voices of teachers who are making an impact in their classrooms and help them build the capacity of other teachers," noted Jessica Solano, Teacher Engagement Leader for Polk County Public Schools. With topics ranging from trauma-informed teaching to culturally responsive teaching, to lesson delivery and questioning, there is something for everyone and the sessions come with district in-service points for recertification. Approximately 25 percent of attendees have been teachers with more than five years of experience. 
Taking the opportunity to re-think existing systems and create virtual connections maybe just a few of the positive lessons learned from this global pandemic. Engaging teachers through social media channels with programming resulting in district in-service points may be part of the future of professional learning. Why not create online learning communities to connect teachers across a district? The opportunities are endless. Teachers should no longer rely on the traditional methods of professional learning delivery and that may be a good thing. Collaborative by nature, teachers and school leaders must embrace this new world and engage in learning in new ways, just like their students.